Simon Rowe | sleepbus® Founder
HOMELESS AT 19
At 19, Simon had a job, a car, and a nice two bedroom unit. Unfortunately, his car engine unexpectedly blew up and required costly repairs. He didn't have enough savings to cover it and needed the car to keep the job. So he spent his rent money.
Unable to catch up, he was evicted and spent the next four months living in his car, sneaking into the local caravan park each morning for a shower before work. He eventually saved enough money for a new place and vowed to never be in that situation again.
THE TIREDEST MAN
In 2015 Simon, now a father and successful entrepreneur and corporate consultant, was walking down Carlisle Street in Melbourne's St Kilda East, when he saw a bright white quilt in a disused doorway of a bank. People were walking past and stepping over it, and as he got closer, he noticed it was a man, curled up on the hard concrete floor trying to sleep in the middle of the day.
He said something to Simon that changed his world; "it's not safe to sleep at night, you have to keep your wits about you, its's much safer to sleep during the day on a busy footpath and let people like you walk over me."
DO SOMETHING ABOUT IT DAD
When Simon went home, he shared his encounter with his twin boys, as he did, tears began to roll down his face. His boys told him, "you should do something about that, Dad".
As a consultant who fixes broken businesses, Simon used that same skill set to figure out what he could do to help people sleeping rough. 12 months of research, looking at different charities all over the world, speaking with key stakeholders and the homeless themselves, he even went undercover as a homeless person and stayed in some shelters.. and that's when it happened.
SAFE SLEEPS
While TRYING to sleep in a shelter one night, the man next to him fell asleep almost immediately, despite the noise, talking, arguments and lying on the floor on one of one hundred mattress in the room. 30 minutes after the man fell asleep, people were going through his bag and actually taking the shoes off his feet. That's the moment Simon decided he needed to create a place that provided safe sleeps, a place to take a breath, to stay safe and healthy until they could get back on their feet.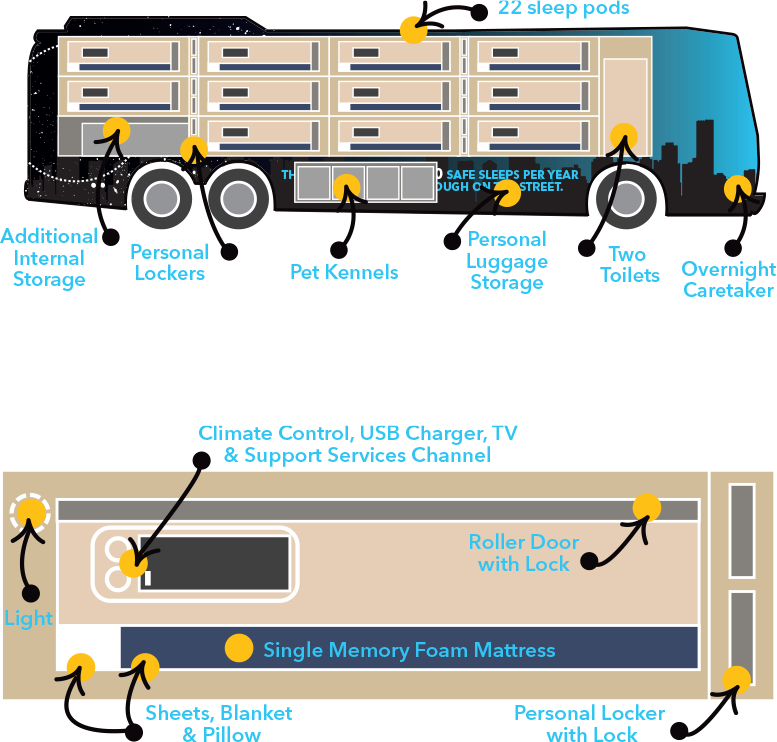 SAFE SLEEPS ON A BUS
While researching for a solution, Simon stumbled across an image for a Japanese pod hotel. Just a small, bed sized space to sleep for the night.. that could work. Then he turned his attention to an affordable and adaptable way to get these sleep pods to people in need around the country.
While going through an old photo album, he saw photos of a bus he converted into a motor home in his 20's; that's it, safe sleeps on a bus. It's mobile and it can go where people need us most. It's cheap to build compared to a bricks and mortar building model and it will be a great marketing platform for potential sponsors.
sleepbus® was born.
REACHED OUR GOAL IN 4 DAYS
Simon's friends and family network thought it was a great idea, but family can be biased, so he decided to test his idea in public with a GoFundMe crowdsourcing campaign.
This wasn't about raising money at the time, it was more about gaining feedback on the idea. Upon launching the campaign in May 2016 it went crazy. People from all over the world donated, it reached it's initial fundraising goal in just four days and had media attention from all over the world. The sleepbus idea was a hit and as a result, a big decision had to be made.
CAN'T DO BOTH
The media attention that raising $100,000 for a first of it's kind solution in the world gets you, is massive and a huge commitment in time and energy. Time and energy that was being taken away from his day job, something had to give.
Sitting in his office in Melbourne, looking out at the city, Simon pondered a question; give up on sleepbus before it begins, or quit the comfortable secure job and have a crack?
THE FIRST SLEEPBUS
Naturally, Simon went and brought a bus. He couldn't continue doing what he was doing, knowing what he now knew; thousands of people sleeping rough each night, more than 1,000 of them kids under 12 years old. He picked up his new bus and with the help of his kids, volunteers, and the odd labourer, Simon began building the first sleepbus at hsi home. It was finished and ready to begin trial operations 6 months later.
THE STORY CONTINUES...
Want to learn more about the first sleepbus, or see how it's doing?