If you're interested in becoming a volunteer, that would be AWESOME, we could really use the help. As we grow our services across the country, we will need more and more people just like you.
Our volunteers fill four main roles: Caretaker, Service Volunteer, Housekeeping and Driver.
If this sounds like the volunteering opportunity you've been looking for, check out the position descriptions for more detail and register your interest with the sign up form below.
We look forward to having you onboard. (Pun intended)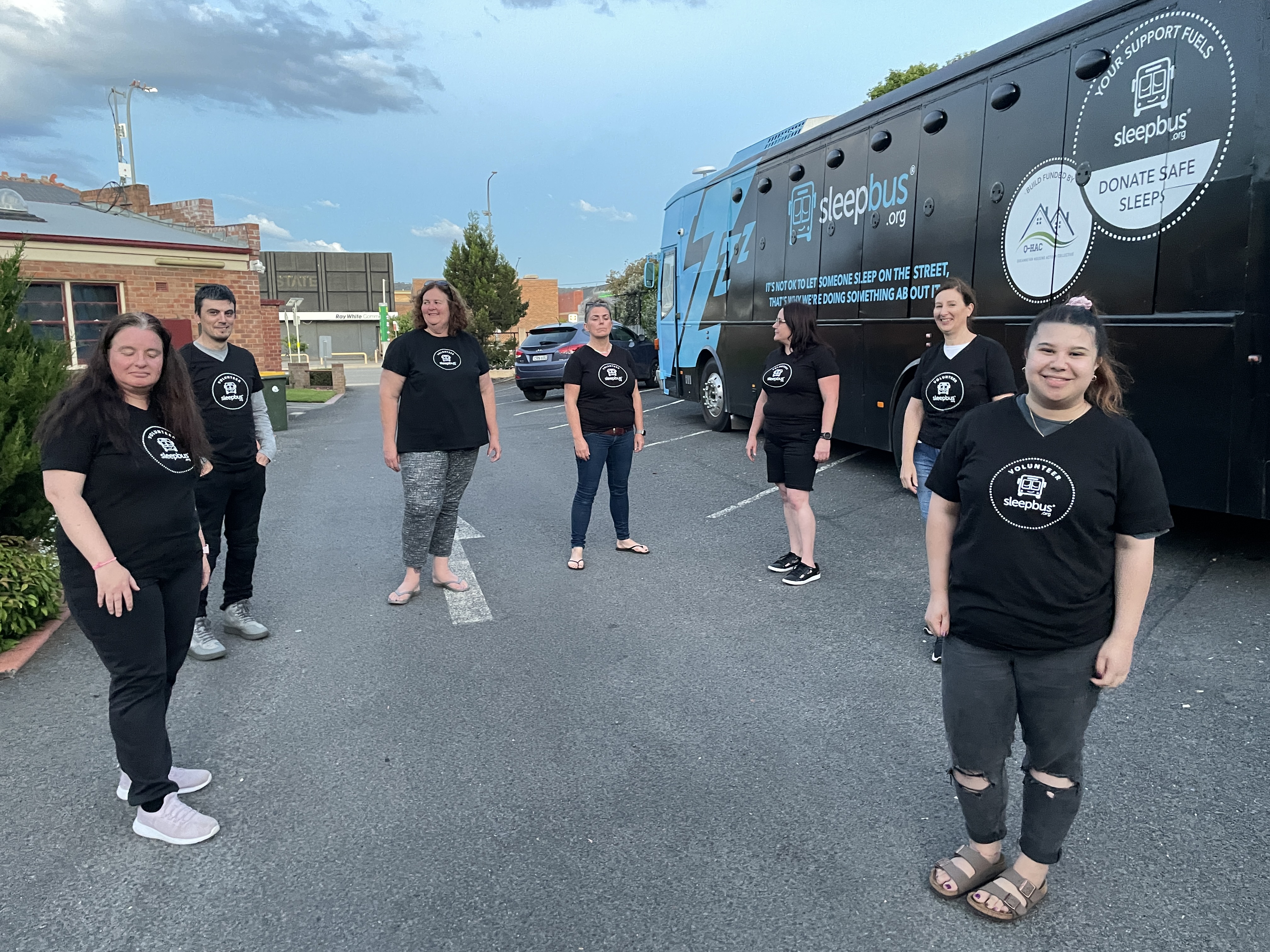 Volunteer Roles
All volunteers will have appropriate training online and in person with a buddy before joining the volunteer roster. All you have to do is register your interest in the form below, we will organise training and send you a link to access the volunteer roster for your chosen location. You can choose as many or as little shifts as you would like. We truly appreciate the assistance and cannot operate without volunteers like yourself.
Caretaker
This is the ultimate volunteer role at sleepbus, its also the coolest. The Caretaker role is an overnight stay on sleepbus.
If you take this on, you're the boss of the service for that night; you make sure all guests are allocated a sleep pod and get tucked in. You also get to sleep on sleepbus for the night in the private Caretakers Cabin to ensure all of our guests are well taken care of and to provide assistance overnight. The Caretakers Cabin is for two, so there is opportunity to share this role with someone else.
Key Points:
- Buddy training required before solo
- Overnight stay on sleepbus
- Leadership role
Shift Details:
- Starts at 8pm
- Finishes at 8am
Key Criteria:
- Reliable
- Caring
- Organised
Service Volunteer
This is an awesome hands-on role for someone who likes a chat. The Service Volunteer role can be either a night or morning shift.
You're there to assist our guests (and their companion animals) to get into their sleep pod for the night or out in the morning. You may also assist with tucking in or waking up a companion animal in the pet pods or storing/retrieving belongings kept under sleepbus.
Key Points:
- Buddy training required to start
- Evening or Morning shifts
- Can be done with a group of friends
Shift Details:
- Evening Starts at 8pm to 10pm at the latest
- Morning Starts at 7am to 8am
Key Criteria:
- Reliable
- Friendly
Housekeeping
If you have a little cleaning OCD, this is the volunteering opportunity for you. It is a day time shift, undertaken for a couple of hours each morning.
The Housekeeper's role is to strip all the bedding from each sleep pod; wipe down and vacuum surfaces; and remake all beds with clean linen. A laundry service cleans the dirty laundry and we have someone else to sort out the toilets. We call this "resetting sleepbus" so that it is ready for the next nights service and you can do this with a group of friends.
Key Points:
- Buddy training required to start
- Morning shift
- Can be done with a group of friends
- All cleaning supplies/equipment provided
Shift Details:
- Starts at 9am to approximately 11am
Key Criteria:
- Reliable
- Attention to detail
- Likes things clean
Driver
Be one of the very few people IN THE WORLD to ever drive a sleepbus, yep, it's that cool. If you like to drive big vehicles, then we have the volunteering role for you.
There are TWO (2) shifts and TWO (2) roles available here;
- Firstly, we need a driver to pick up sleepbus from our depot and drive it to the service location.
- We also need a driver to pick up sleepbus from the service location in the morning and drive it to the depot.
Obviously these two duties can be done by the ONE person, if that's possible, but dependant on availability, we may need 2 individuals. You let us know what you can do.
Key Points:
- MUST have a valid HR licence
- reliable
Shift Details:
- Evening | Pick up sleepbus at 7pm and deliver to service location
- Morning | Pick up sleepbus at 8am and deliver to depot location
Key Criteria:
- Reliable
- Good driving record