When our founder Simon Rowe was researching how he could help people on the street, he kept coming back to the same thing;
NOT ENOUGH BEDS!
So he set about creating an immediate, first stop, cost effective solution for our society's most vulnerable people; catching them early until they can get back on their feet.
SLEEPBUS SOLUTION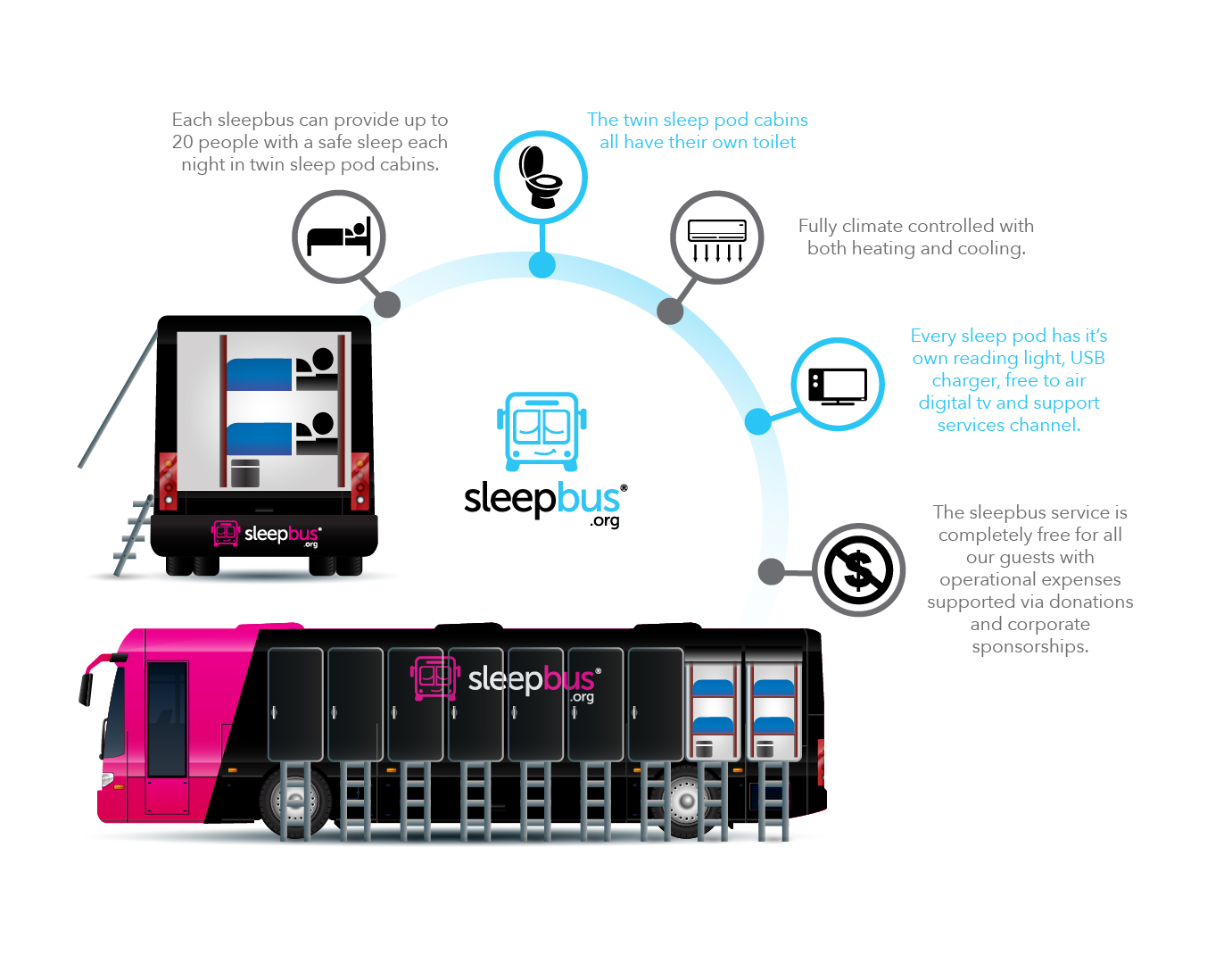 Each sleepbus provides up to 20 secure, climate controlled, individual sleep pods in twin cabins, each with a lockable door and toilet.
Everyone is looked after with an overnight caretaker; we also have under bus storage for belongings, and a cosy place for companion animals.
PINK SLEEPBUS SOLUTION
With the dramatic increase of women (and their children) ending up on the streets due to financial strife, family breakdown and other factors, we decided we needed to tweak the model with a 'pink' sleepbus. This is a service specifically for women (and their children).
Although our traditional service can cater for both male and female guests of all ages, there is a need for women to be in a female only environment for their own peace of mind and mental health. sleepbus® recognises this and because our model can adapt quickly to meet the needs of people forced onto the streets, a pink sleepbus was a no brainer.
The service remains the same in every other detail to our traditional service, just for women only. We hope this will make our female guests even more comfortable while they work out their next steps.
sleepbus® offers a safe place to sleep while transitioning into long term accommodation, as well as links to local support services providing assistance with finances, employment, education, health care and legal advice.
100% MODEL
100% of your donation is allocated to a sleepbus project; that's our 100% model promise to you.
When you donate or fundraise, every dollar goes to building and maintaining a sleepbus project. Private donors fund our charity operating costs, so 100% of your money can go towards getting people off the street.
SLEEPBUS LIVE
sleepbus® conducts a short survey of guests as they board, as much information as they wish to provide, which then populates our sleepbusLIVE portal (names withheld) so that donors, supporters, agencies and partners can see what's happening, as it happens in the field.
This includes number of guests, ages, male/female, days homeless, number of safe sleeps provided by this sleepbus to date etc.
SLEEPBUS HUB
There is a very good reason this is called the sleepbusHUB, because this is where everything happens. The facility houses the factory and build team that convert buses. All 300+ sleepbus required nationally will be built here and shipped where they need to go.
It 's the place for volunteers, corporate partners, schools and others will come to meet, talk and see how we are helping to end the need for people to sleep rough in Australia. It's the HUB of everything we do.
Our founder realised a lot of money is wasted on rent, money better spent on providing safe sleeps, so he got creative. There are many vacant warehouses, factories and industrial lands around Melbourne waiting developmental approvals, so we designed and built mobile facilities that could move into a vacant warehouse for 6-12 months for free, and when development finally comes through, we roll on to the next fee warehouse; saving up to $200,000 per year on rent.
Our sleepbusDEPOT vehicle is a repurposed bus that no longer has a motor. Where the engine used to be, now houses all the plumbing and electrical for our onsite laundry inside the bus. Inside we also have shelving and storage for our clean bedding and supplies to service the sleepbus fleet. We also have a relaxing seating area for our volunteers to sit, talk or have some lunch. It's a great space. Best of all, if we ever have to move locations to a new warehouse, we just tow it to the next free space and keep working.
We will build additional sleepbusDEPOT vehichles as we expand around the country, so that we can support our fleet and our generous volunteers where ever we operate.